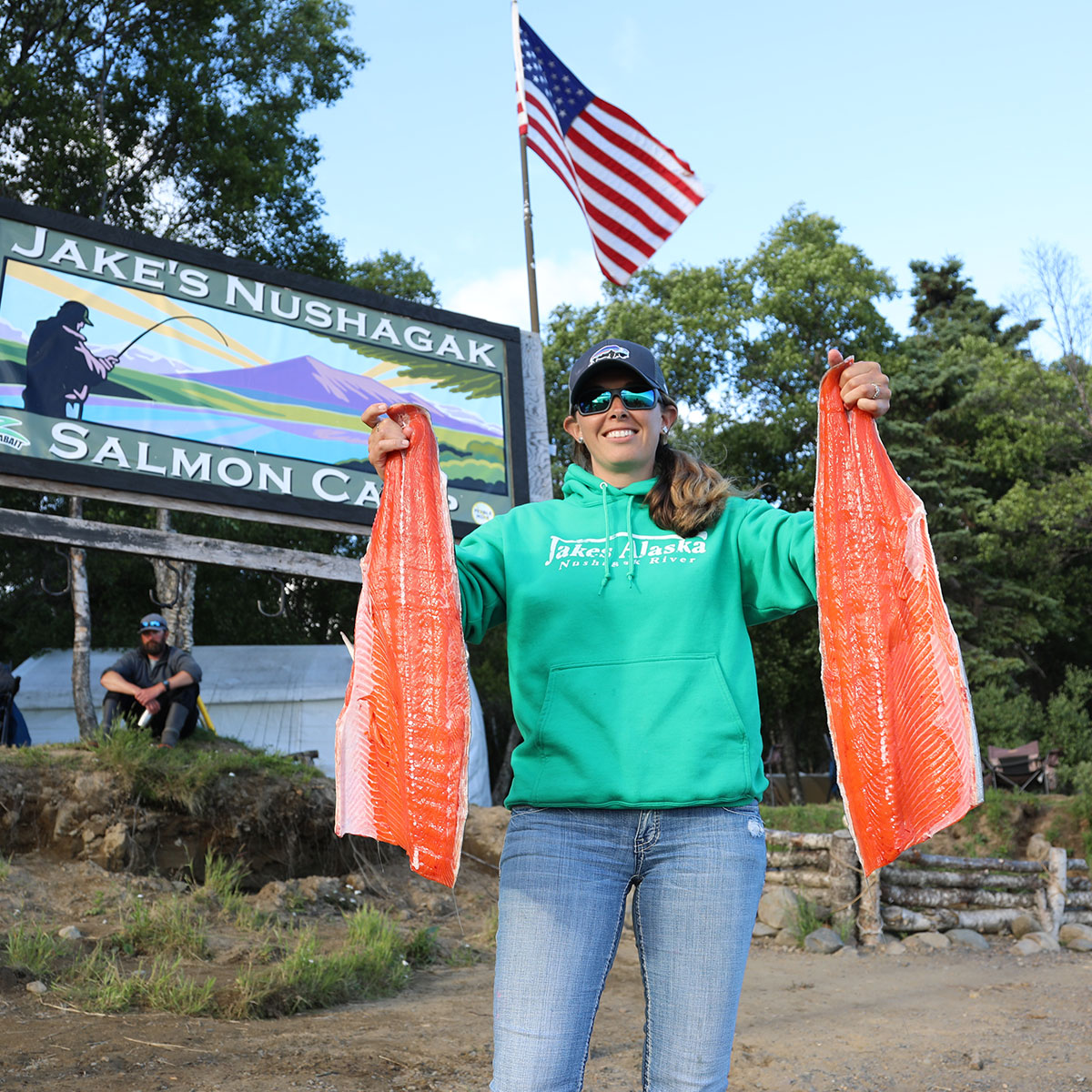 There's one reason why over 90% of our anglers return to our Nushagak King Salmon Camp.
They Catch Fish!
A trip to an Alaska Fishing Camp is best when you catch fish. That's what we focus on at Jakes Nushagak Fishing Camp. Our Nushagak River Fishing Camp offers comfortable tent accommodations and a "It's your trip" approach to fishing. You'll find the best of Alaskan King Salmon Fishing in the Bristol Bay area and our Alaska Fly Fishing Camp enjoys repeat business from anglers year after year.
In Alaska,
we grow them BIG!
When you're ready for the best salmon fishing in Alaska, you want Nushagak River Salmon Fishing. In Alaska, we grow them big, and our Alaska Salmon Fishing Camps will place you right in the center of the action. For Alaska King Salmon Fishing, you won't find a better Alaska Salmon Camp.
Fish 2 hours a day or 20 hours a day – with 19 hours of daylight, you can enjoy Nushagak River Salmon Fishing nearly all day and night long. You'll arrive at our camp via seaplane, and we'll head out each day to the best Alaska Salmon Fishing anywhere. This Alaska Salmon fishing Camp thrives on our guides and their knowledge of where the fish are. Huge King Salmon are caught every single day because there are thousands who return to our waters every year.
Alaska Salmon Fishing
Alaska Salmon Fishing is an experience anglers dream of. Our Nushagak River Fishing Camp offers the type of Alaska King Alaska Salmon FishingSalmon Fishing experience you've always wanted. Tucked far away from civilization, yet with all the comforts of home, you'll find our Alaska Salmon Fishing Lodge has enough amenities to be comfortable with no frills that make you forget where you are.
Alaska Salmon Camps
Our Alaska Salmon Camp features some of the best food you'll find at any Alaska Salmon Fishing Lodge. Best of all, you'll find Alaska King Salmon on the menu several times a week. Our Alaska Salmon Fishing Lodge features our own pastry chef for freshed baked breads, desserts and pastries daily. Our breakfast buffet starts you out right, with delicious rib-sticking foods that will prepare you for a great day of the best Alaska Salmon Fishing available anywhere.
Nushagak River Salmon
Nushagak River Salmon Fishing will hook you with access to Alaska Salmon that you'll catch every day. We'll vacuum pack and freeze to keep it fresh for your return trip. Your friends will be lined up to return with you on your next King Salmon Fishing excursion, and we'll be happy to welcome you back to our Alaska Salmon Camp.
"I had a great time at Jake's Alaska Fishing Camp. I enjoyed the low key experience, being able to fish whatever hours I wanted from early, early to late, late. I think I fished around 12 hours a day and could never get enough!
"We caught more than 30 kings this morning."
Looking to hunt for trophy Mule deer or Elk in Wyoming?
Check out our friends at Salt River Range Outfitters! CLICK HERE! for more information.
Have you dreamed about hunting Buffalo in Wyoming?
Well your in luck, we also own and operate Double Diamond Tag 'n Drag! CLICK HERE! for more information.